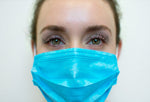 Guide to Treating and Preventing Maskne
By Maren Stratte and Kennedy Johnson LE


Things that are currently unclear: our skin and how much longer we have to wear face masks for. Some of us who haven't struggled with acne in years have recently experienced sudden eruptions caused by wearing a cloth or paper mask.
Our medical esthetician Kennedy has been fighting maskne and has found a product combination that has helped her to clear up her breakouts caused by wearing a mask regularly.
The secret?  Hydration.
"I only use one active ingredient, and really focus on hydration", says Kennedy. "I think that overloading the active ingredients can be more irritating than helpful. This can overdry your skin, and cause breakouts. Keeping the pores open, and hydrated maintains the integrity of the skin and reduces breakouts." - Kennedy
Our Skincare Routine For Fighting Maskne

Step 1: Cleanse
Free and Clear Cleanser:
For sensitive skin.
Obagi Gentle Cleanser:
For normal to dry.
Avene Antirougeurs Cleanser:
For reducing redness in redness-prone skin.
Obagi Foaming Cleanser:
For deeply cleansing oily skin.



Step 2: Treat
Obagi Pore Therapy:
To fight and prevent breakouts.



Step 3: Hydrate
Avene Cicalfate:
To hydrate ultra-dry skin.
SkinMedica HA5:
To keep oily skin hydrated and slightly mattified.
Obagi Hydrate:
To hydrate normal skin and create a dewy effect.

Step 4: Protect
Don't forget the SPF! Kennedy loves the SkinMedica Total Defense + Repair as it's hydrating, tinted, and SPF 34. Perfect for a summer glow!